Parabola Explorer
Parabola Explorer is a comprehensive bitstream analyzer for HEVC. It gives an unrivalled insight into inner codec workings via an intuitive user interface backed with powerful, multi-faceted analysis of video bitstreams.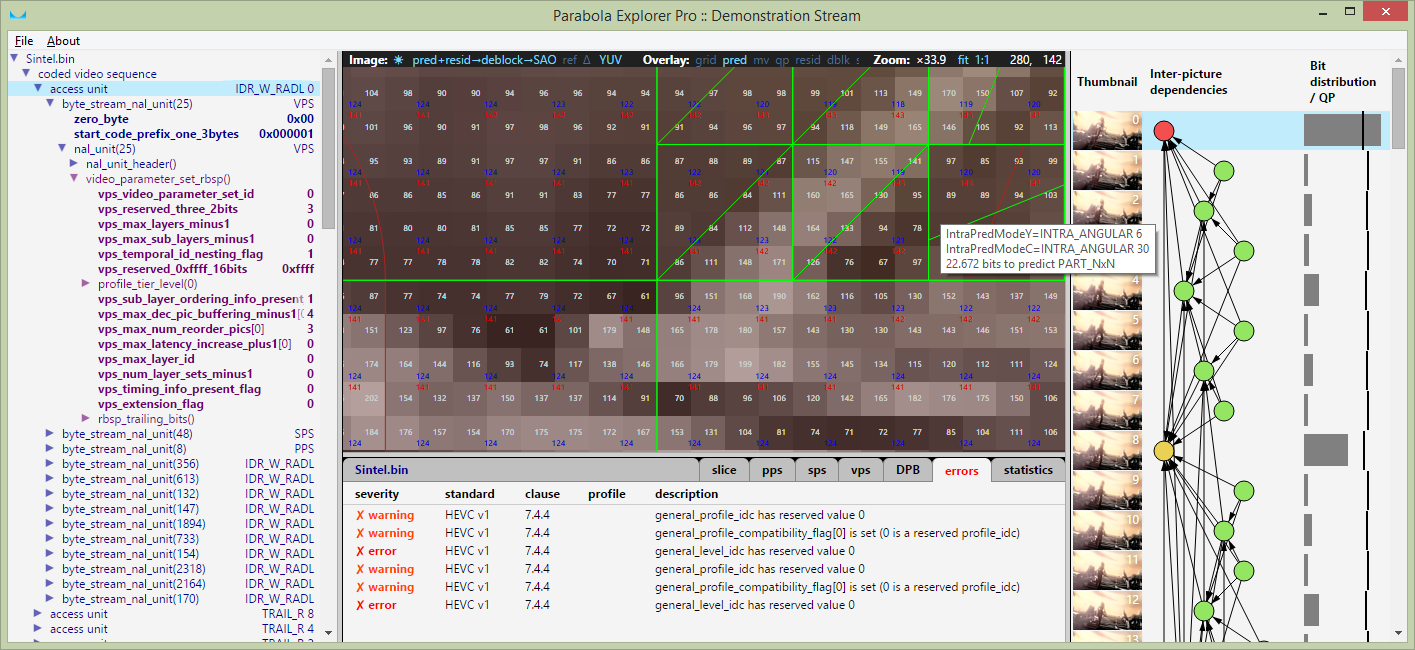 Comprehensive Bitstream Analysis
In the hands of video codec engineers, Parabola Explorer accelerates development and debugging while helping to ensure standards-compliance. Engineers can be more efficient and hours wasted to frustrating problems or cumbersome instrumentation are drastically reduced. Parabola Explorer helps teams communicate video bitstream issues visually and is a powerful learning aid for people new to HEVC.
The product datasheet linked below provides details of features available in Parabola Explorer Pro and Essential editions. Essential may be purchased online - please contact us if you are interested in purchasing a license for the Pro features.
Key Features
Full support for HEVC Main and Main10 profiles
View any syntactic element of the video bitstream from access units right down to CABAC bins and encoded bits and bytes
Zoom and pan predicted, reconstructed or filtered video frames with overlaid informative graphics layers
Comprehensive bitstream conformance validation against the HEVC standard
Powerful statistical analysis of bitstream feature usage (sample PDF)
Patent-pending analysis algorithms
"Parabola Explorer looks great; I love the error message displays (especially which paragraph from the standard) and the motion vector overlay"    "We evaluated Parabola and found it much better than other products as .. (very expensive) and .. (poor GUI)"    "Parabola Explorer's excellent visualisations help me explain HEVC to non-experts"
Copyright © 2021 Parabola Research Limited | Registered in England and Wales 7668051 | VAT number GB 117 8538 94